We Are Here to Serve Indiana Agriculture
The Indiana Agricultural Law Foundation is a 501(c)(3) charitable organization established in 2005 by Indiana Farm Bureau, Inc. Throughout its existence, INAgLaw has effectively promoted a better understanding of legal issues facing Indiana agriculture through educational programming and support of precedent-setting litigation. INAgLaw was also instrumental in creating the agricultural law section of the Indiana State Bar Association. In 2013, INAgLaw hired its first director with the goal of growing the foundation, enhancing its impact on Indiana agriculture and bringing additional focus to strategic planning, educational programming and fundraising efforts.
INAgLaw may also support litigation involving legal issues that:
Present precedent-setting legal questions to Indiana agriculture.
Present questions of law generally applicable to Indiana agriculture rather than factual disputes.
Are at the appropriate litigation stage, preferably at the Court of Appeals or Supreme Court level.
Are approved by the INAgLaw advisory committee and board of directors.
Meet the Director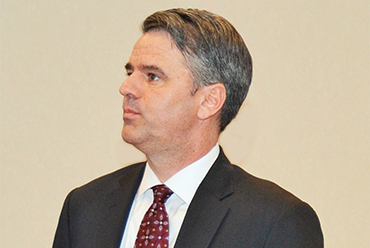 Attorney John Shoup was named director of the Indiana Agricultural Law Foundation in 2013. Prior to his current position, Shoup served on the INAgLaw advisory committee.
Shoup earned his bachelor's degree in marketing from Butler University and continued his education at the Drake Law School in Iowa with a concentration in agricultural law. After graduating, he returned to his family's swine genetics company, Premier Pork Systems, as corporate counsel and general manager. He has also worked as an attorney in private practice with Ryan, Moore &amp Cook in Frankfort, Indiana.
Shoup currently serves on the Ivy Tech Community College regional board of directors, is a member of the agricultural law section of the Indiana State Bar Association and past president of the Clinton County Community Foundation. He was also the president of the Clinton County Bar Association and was the 2008 Clinton County Pro Bono Attorney of the Year. Shoup enjoys running, playing tennis and following college sports. He resides in Clinton County with his wife, Sonya, and sons, Jake and Jackson.
The Power of Donation
Securing additional resources will enable INAgLaw to further its mission and positively impact Indiana agriculture. Fundraising remains a high priority. Outright gifts, annual gifts, sponsorships and planned giving are examples of gifting tools. As stewards of the funds entrusted to our organization, INAgLaw strives to support research, educational programming and litigation offering the most benefit to Indiana's farmers.
County Farm Bureaus are historically the most committed supporters of INAgLaw. They have sustained INAgLaw since its creation in 2005 and have enabled us to play a key role in shaping the legal landscape for Indiana's agricultural stakeholders. Their generosity and commitment to the future of Indiana agriculture is greatly appreciated by the INAgLaw and, more importantly, by Indiana farmers.
There are many entities dependent on a vibrant agricultural economy and an equitable legal framework for Indiana farmers. INAgLaw spends considerable time reaching out to agricultural organizations, commodity groups and allied industry. Our message to these stakeholders is that what is good for Indiana farmers is good for them. By improving the legal landscape under which farmers operate, we hope these companies will benefit from having long term and profitable customers for years to come.
We sincerely appreciate your support of INAgLaw. If you want to support our mission through a donation or know individuals or companies who may be supportive of the INAgLaw mission, please share our website or have them contact Director John Shoup.
Additional Information
Advisory Committee
John Shoup, Director
Steve Maple, Chair
Jeremy Barron
Dan Gordon
Don Lamb
Kevin Ousley
Harold Parker
Philip Springstun
Josh Trenary
Dave Wyeth
Ed Yanos
Jon Sparks
Linda Chezem
Annual Reports